Jumpin' All Over Nac!
Ten weeks have passed since I have shaved. Without a doubt the longest time I have gone without shaving. It is amazing to think back to how I looked ten weeks ago as compared today. After the BUM film, it will be weird to not have my beard anymore.
Rockin' and Jumpin'!
Just for fun, I decided to try some jumping guitar shots. It takes a few times to judge the right time to jump. A few photos have turned out great! Wonder how high I can jump!
New Olympic Event, The Guitar High Jump!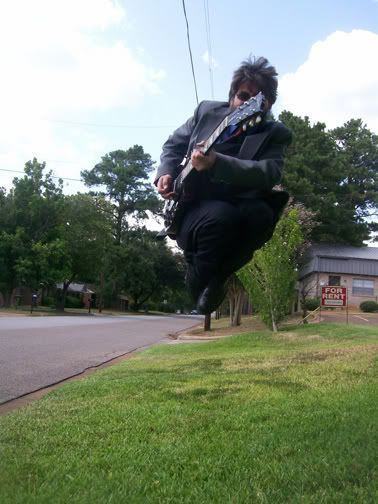 A New Record!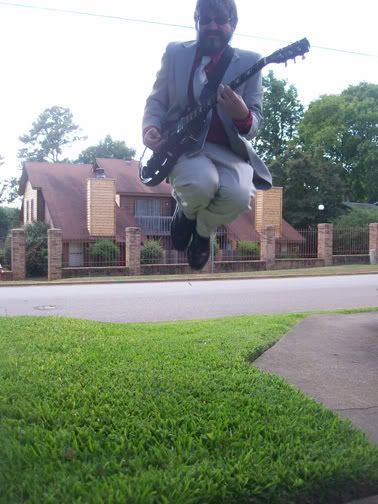 Made a few music videos this week. I felt really creative this week. During this week I composed a composition for classical guitar, a free tonally piano composition, an electronic Musique concrète composition, some mix percussion and of course, a song.
It is great that I can share all of this music with the world. One of my old composition teachers told me one time that he didn't write music to sit on the shelf. Neither do I, and with
YouTube
I can easily share my creative work with the world. Hope you enjoy them all!
Study in G Major - Classical Guitar Study

"727" Musique concrète Electronic Avant Garde Composition
"Clock Pulse" in Free Tonality for solo piano

"Rockin' Out Rug Time" Mix Percussion
"Hello Baby" Music Video
Lookin' Sharp!
Good news, there is another Herb Report up. Had a lot to talk about since the last one. I talk about making the BUM film and also about creativity.
The Herb Report (8-1-08)
Stills from the BUM film:
Here is a teaser for the BUM film. Enjoy.

"Bum" 'Walking' Teaser
Funny, it still looks like me.