Jumpin' in another year!
Another year and I have learned so much about life and being a better human being. Each year you have a choice, to get better or get worst. During my life, I have tried my hardest to improve every year.
It was the best of times....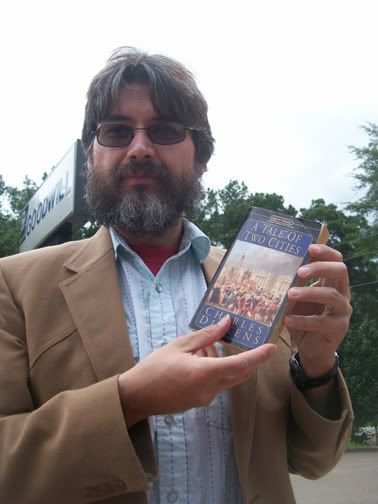 The biggest change this year is that I am working on a film degree. Still can't believe that I am learning how to be filmmaker. You all know how many videos and films I have made over the years. It's a lot of work.
And I love every long, hard, draining minute of it! There is so much energy and electricity making films. Making films is so hard, however when I can get over 6000 people to watch one of my
movies
, that is awesome!
Last year.
This year, there is something different.
To be honest, I wrote so many
songs
, I don't even know how many I wrote this year. I do know that I recorded a lot of songs and made a lot of music videos to go along with them. Look for a new CD in the next month or so.
By writing, making films, my songwriting has grown and grown. Being creative is so important to me. Having the ability to make something out of nothing is a great feeling. I am so lucky and blessed to have this talent, that's one reason I work so hard to make so much art.
The Happiest Place in Lufkin, Sound Tech.
The guitar store was screaming for me to come buy this guitar, so I did. Here is a quick jam showing how it
sounds
. It is fun to play a new, albeit, economical guitar. And it looks cool too!
Here is the Squier Bullet rockin' out!
"Skiffle Along" Music Video
Here is the last song I wrote before my birthday.
"Rocking Out" Music Video
Here is the first song I wrote after my birthday.
"There's a Girl" Music Video
Here I am rocking out with my biggest hit, this time with a beard!
"I'm a Nerd" Music Video with a beard
This is a big Pancake!
Had a great day visiting friends and family. Thanks to all that have wished me cheer and joy. Hope you all will continue to read this blog, listen to my songs and watch my movies. This year I will strive to improve as a human being, as I will for the rest of my life.
Having too much fun today!
I am so lucky being here in best place in the world, East Texas doing what I love
doing
. Having so many great friends in music, film, school, work and all of those that yell my name out as I am recording a video on the streets of East Texas, thank you all for being my friend. You all rock!
I got some soap as a present.
Perhaps I should've received
a razor instead.