Working 5 days and getting off for 3 sounds like a cool deal for the first week of school.
The first week of school has come and gone. This year, like the last few years, has went smooth. A great sign that the rest of the semester is going to go great!
The rock history classes are full. What a dream to be able to talk and play the music that I love! It's great when I can see that the class has learn something. That's why I teach. If I could go back in time and tell all of my friends that I will teach a class on rock and roll one day, they all wouldn't have believed it.
The guitar and the midi classes are going great too. It's going to be great to share my knowledge about song writing and playing guitar. Teaching all the 'cool' classes is great. I am very lucky to have such a great gig.
I am taking my first official film class this semester. This is going to be a great challenge for me. I know that I can make short films all myself. Since I can compose music, write, direct, act and edit, I am a one man movie making machine.
Working in groups means that we can make films that look great. Films that look like real movies. It's going to be great to learn how to do everything the 'official' way. Some things you can't do alone. I can't wait to learn how to work behind the camera so that when I make my own films, they will look awesome on the big screen.
I'm sure that I'll get a chance to act too. That's also a major challenge, acting so that you don't look like you are acting. Right now, I'm still not happy with any acting that I've done. Perhaps this semester I'll do some acting that I'm proud to show the world.
Here is a song that I recorded all in GarageBand. So there is a bass line, some drums and a guitar solo towards the end of the song. For the music video, I use
"The Triangle Question"
footage. I add a few seconds of footage and a few titles to make story out of it.
"Never Alone" (Music Video) from "The Triangle Question"
Here is another "The Herb Report".
The Herb Report (Cast 12) (8-31-07)
Have a great Labor Day. It's a long haul until the next holiday, so enjoy it! And as always, rock and roll!
Photos:
This is how I looked after my first class back to school.
I got to ride my bike to school a few times last week
I like all the trees in East Texas.
I can still rock out when I need to.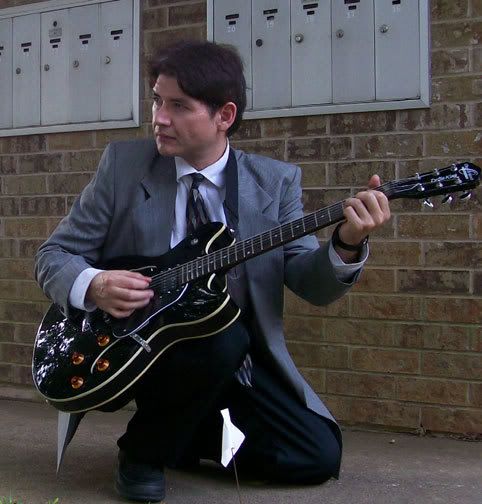 Here I'm working the phone.
Looking out the window towards the future.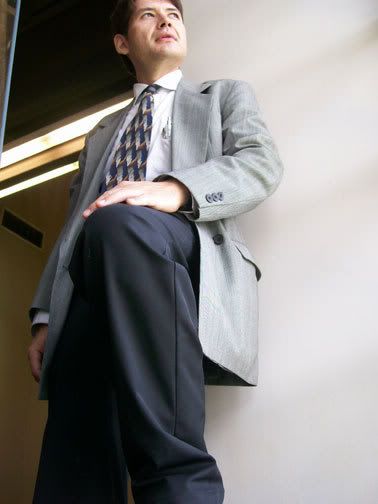 Walls are cool.