I love my new "Axe" and that I can run 21 miles a week.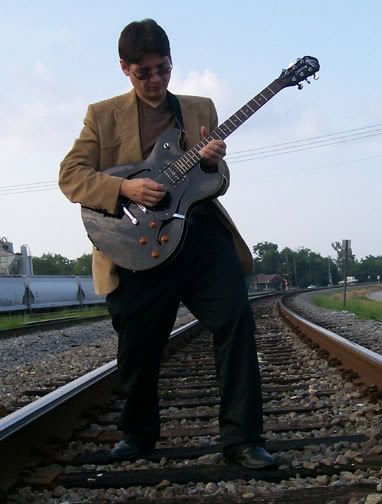 In the last twelve days I have ran thirty-six miles. I was able to run a marathon, in nine days, three miles every day. This is amazing to me. Only a few years ago I would've thought it was impossible to run this much.
Of course, someone told me that they were in track and they run eighty miles a week. That makes my twenty-one miles a week sound pretty average. However, I'm in the best shape of my life and I can bench 140 pounds on using machine-weights. That's about my own weight and I can do fifty push-ups in a row! Rock and roll!
Here I am getting ready for a movie shoot.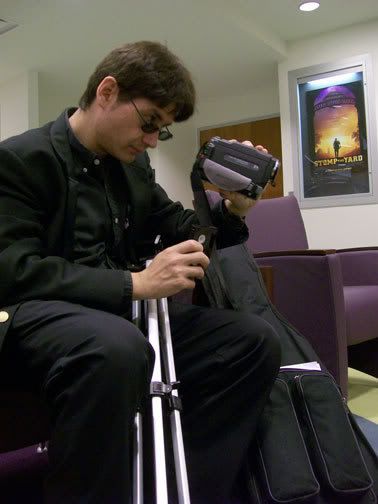 I wrote a song last Sunday and wanted to make a cool and remarkable music video for one of my few non-emo songs. So with the help of the MTC 362 class I made one of the "Soap opera" acting music videos. They did a great job acting, shooting and directing this music video. I edited the footage and put it on YouTube.
Then I made a music video using only one photo of me and a peanut butter and jelly sandwich! Can someone watch me holding a peanut butter and jelly sandwich for two and half minutes? Only time will tell.
Which one do you like the best? Why?
"When the Time is Right" Music Video with the MTC 362 Class
"When the Time is Right" Music Video with a peanut butter and jelly sandwich
I'm a Punk Rocker!
I had this simple lyric hit me one day while running and wrote a song using it. This is another catchy happy punk emo song for you to rock out too. I hope you dig one of my rare guitar solos in the middle! After hearing this guitar solo, I may have to put in more of them in my songs.
The day I shot the video I got my new cheap guitar in the mail. I have been wanting an electric guitar with some f-holes for a while to play at open mike nights. These guitars sound great for jazz and blues, however I dig the punk sound on them too.
In the video, I didn't have a power source in that stairwell, so I added the distorted guitar and solo later. This is a catchy little number that I may have to put a little more time into. I love the concept of the song and the deadpan emo/punk delivery. Being deadpan, you can't really know what the singer is thinking. Yeah, that's rock and roll! Mystery and a distorted guitar solo!
"The Platonic Girl Friend" Music Video
The Boys are back in town! Eating at the CiCi's of course. Just like the good old days. Three out of four gamers are happy in this photo. I like them odds.
One of my friends, James, had a major role in a play down in Houston. It has been a while since I have seen him act. Amit was kind to allow me to crash at his house, so I went on my trek towards Houston.
James
did a great job of acting in "All in the Timing". If you have a chance to see him act, do it. Or if you need an actor for stage or film, hire him.
It was great to see and hang out with my old homeboys from the G.A.M.E. club of yesteryear. It was like we were all back in Nac, four years ago. It's neat to see that everyone is doing great in their fields. So Amit, James, Chris and Todd, rock and roll, hope it won't be so long for another reunion. And thanks for taking me around Houston, this is the first time I have actually seen downtown Houston.
Man Houston is big and I love the Greek food we got too.
Here I am in the big city of Houston.
Since I was in Houston, I asked Amit if he would co-host
The Herb Report
with me. So this week The Herb Report was filmed in Houston with special co-host Amit. Twenty-six minutes of fun, talking tech and about whatever! I hope you enjoy this cast.
The Herb Report # 9 8-4-07 with co-host Amit
The iPhone loads www.herbertmidgley.com without a problem.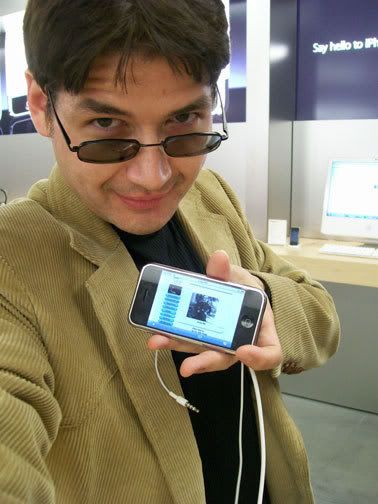 In Houston, we all had the chance to hit a few computer stores and we made it to the Apple Store in the Galleria. This is the first time I got to see and hold an iPhone. It's a cool device, the interface is slick and user friendly.
Of course I had to load
www.herbertmidgley.com
and
www.theinternetlegend.com
to see how they work on the iPhone. They load slow over the phone network, however they look great after the page loads. I'm going to wait until the iPhone drops in price, I need the internet everywhere I go and for a few more generations to get one. However it is cool if you have the dime to drop on one.
Have a great day weather you play piano,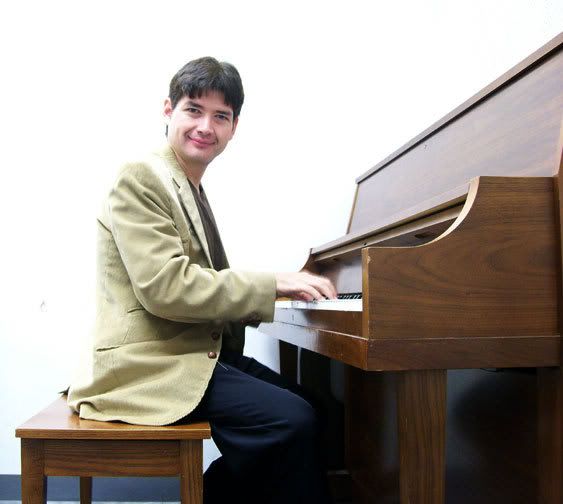 Violin
Or Guitar!