Here is my favorite photo of the European Adventure.
There is a microdot in that chorale I'm composing.
No, I didn't find it, I have been playing the pratt version
of Herbert for the last two years!
Time to get back to reality....
Traveling is a bit like playing an adventure video game. You aren't sure what will happen or when it will happen. And you know after you run out of quarters, it's time to get back to reality.
Last year I spend two weeks in London and Paris on my own. I didn't think that I would get a chance to go to Europe again for a long time. However, fate rolled the
dice, and I had chance to join a friend this time.
It was neat last time. I did whatever I wanted to do. Slept as late and did as much or as little as I wanted to do. At times it was lonely. Fortunately while in London I had wifi, so I could email and talk with friends and family. After I closed the laptop, I was on my own.
The cool thing was that when I sat in my 30 pound a night room with out a WC, a bathroom to us Americans, I had to make a quick decision. To go out and do something, or sit in my hotel room and watch the BBC. The outcome was all on me. And since I had an amazing time, I felt great that I could conquer the world, or at least London and Paris on my own.
I also knew the next time I would go to Europe, I would go with one of my homeboys. It would be a different experience. And it was.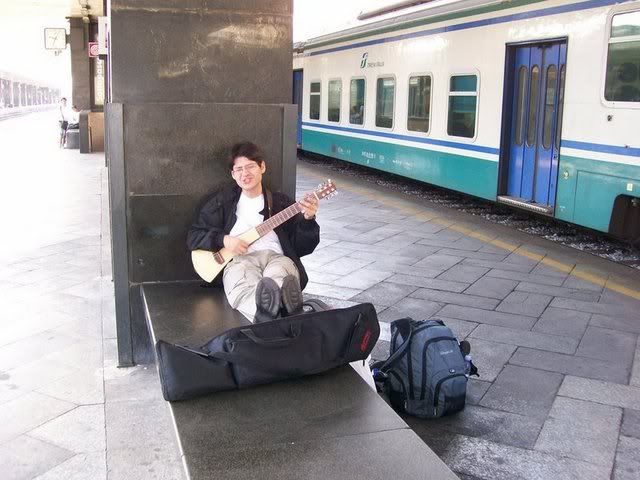 The one thing that scared me was that we didn't have any place to stay after the first two nights in Paris. We both had a EuroRail pass, so we didn't have an agenda to go by. We could take the train to where ever we want. That was cool, and at the same time, frightening.
It is a good thing that I have a cool head and work great under pressure. I always had my wits to rely on. And this time I had another person help me figure things out. It is great not having to think for the complete two weeks. This way, I could relax and just flow with the current. This is a true vacation.
Paris turned out to be the home base not my design, but rather by chance. The EuroRail pass worked out that most of the cool places in Europe, can be reached by Paris. We also were going to meet up with some of my traveling partner's family in Paris, sadly the schedules didn't work out. Well, it was another chance to eat some great bread and Greek food.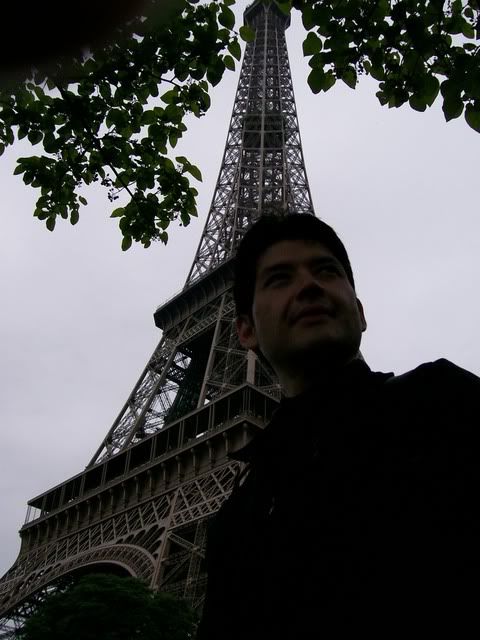 Paris was great once again. I love the vibe in this city. Everything is so laid back and kick back. Everyone is cool and don't care if you do something like playing for money on the street. Laissez-faire is the norm in this city.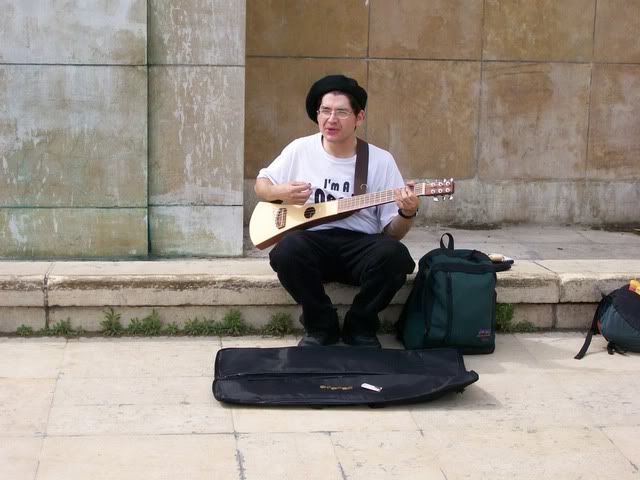 One thing that I felt that helped us on the is trip, was that we tried to speak in the native tongue. My French and Italian are every limited, however when I tried to speak the few words that I knew, they all treated us better.
And no one treated us poorly when we told them we were Americans. Not one person. You treat people kind, and they will treat you kind.
If you try to blend in and live the culture you are seeing, that's more important than a photo of a famous site. I can honestly say that I lived a few days as a Roman and as a Parisian.
The beach in Nice, which is in the French Riviera, is beautiful. There is no sand on this beach, just a lot of rocks. I kind of liked the rocks as I kicked it on beach. Sand gets in my shoes, rocks are usually too big for that. However the rocks hurt when they knock up against you as I was walked in the water.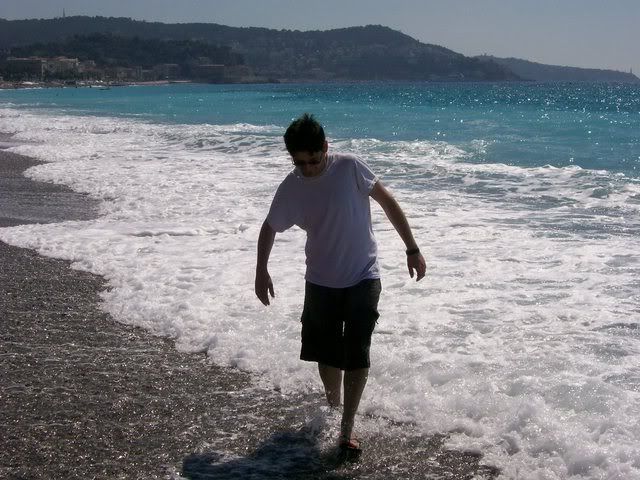 I have always heard about the French Riviera in all of the spy movies. Never in my life did I think that I would go there. And since I have, I can wait to go back again.
As a twist of luck, or fate, we were in Nice when the Cannes Film Festival was going on. A short train ride and we were in Cannes. I had to at least make an appearance there.
The Timetorians
has to be shown all over the world!
On the way there on train from Nice, I shot part of the documentary and some high school kids asked if I was going to walk on the red carpet. They thought I was a movie star.
I taught them some slang words in English. The phrase "Rock and Roll" should be known by every French student in the French Riviera by now. Rock and roll! And did you know that in Texas that before we all eat we say, "rub a dub dub, let's eat our grub". It's true, they told me so.
To be honest, the Cannes Film Festival was boring if you didn't have a pass to get in. So I made me a movie about getting
The Timetorians
shown at Cannes. Has anyone ever thought about making a movie at Cannes? The answer now is yeah.
We thought it would be cool to take the night train from Paris to Rome. I would suggest not to take the train to sleep. It was easier for me to sleep sitting up during the day then trying to sleep on that small bed. And the train would stop in the middle of the night, and it got hot. That was the first and last night train of this adventure.
Since we were playing this trip by ear, we used internet cafes to book the rooms the day before. It pays to print up the information, because just about every time I went to get my room, they looked at me like I was from the moon.
"What's your name?"
"Herbert Midgley."
"Please write that out."
"Would you like to have the itinerary?"
"Oh, here you are!"
So if you use any of the hotel booking places online, print out your itinerary. If not, write everything down, so they can find your reservation. Or better yet, call them before you get there.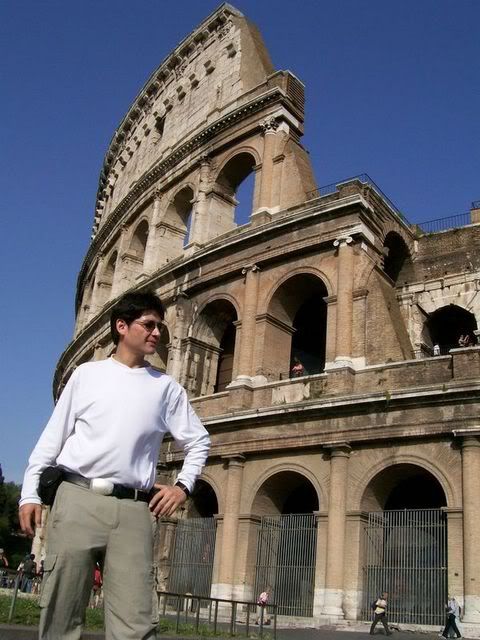 Rome was big. The Roman Colosseum was bigger. It was amazing to walk around it. Also, it was great to put my hand on a few parts of it. Something that was built 2000 years ago and is still standing, is priceless. History right before my eyes.
For years I have told all of my homeboys that in Italy, they make pizza without cheese. No one believe me. So when we rolled in a place called "Pizza" and there already made in the display case was a big piece of cheeseless pizza, I was so happy!
And that was the best pizza I've ever had! He cut it into two pieces and folded it over and made a sandwich out of it! This rocked! I went back two more times!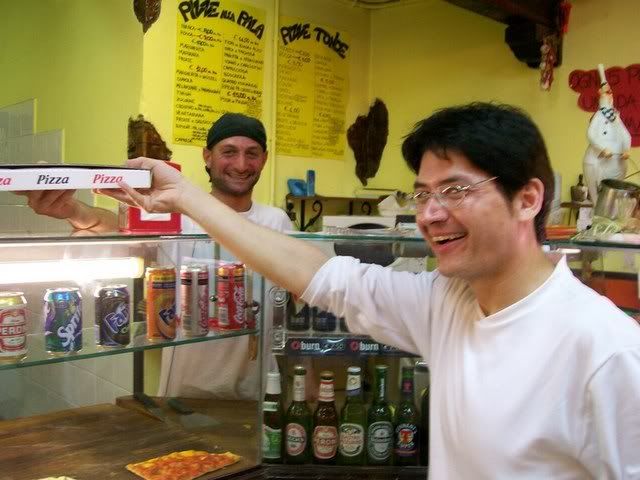 Also, I've been going to Italian restaurants in the States for along time. I usually have to special order something now that I don't eat cheese. Well in a real Italian restaurant, that's no problem. Even when the waiter didn't speak any English, I got my meal without cheese and it was great!
The pasta was amazing. The sauce was magical to taste. The cod melted in my mouth!
I'll still go to the Italian joints in East Texas. However, I now know that's not what the Romans eat.
My traveling partner had to leave two days before me. So I went to the Netherlands using my EuroRail pass. It was beautiful there. All of the canals in Amsterdam with the architecture was amazing to see. And bikes are everywhere. I planned to rent one, however it rained the day that I was there.
I couldn't find a hotel or hostel in Amsterdam, so I booked a hotel in a small fishing village seven kilometers north of Amsterdam. Monnickendam was even more beautiful. It was small and kick back. I'm glad that I couldn't get a place in Amsterdam! And for the first time, I got some peanut butter at breakfast! There is no peanut butter in France or Italy. Only Nutzilla, or as you call it Nutella. I can't eat chocolate! Who eats chocolate for breakfast?
We got to meet and talk to a lot of cool and neat people on the trains and places we ate at. I meet a man that had a short film being shown at Cannes. Another man that saw Jimi Hendricks live in Bath, England. A paratrooper on leave from the French Army. A group of kids going to Cannes to see some famous American movie stars. A very American couple that drove all over France. A woman that carried six bags of food from Paris to Rome on a night train. An Italian that was trying to bum a sandwich and water from me. A group of America exchange students on holiday in Nice. The travel guide that helped us to the hotel in Nice. The man who sold me the best pizza in the world. And many more.
Seeing the Eiffel Tower, the Louvre, the Notre-Dame Cathedral, Sacré-Coeur, the Roman Colosseum, Cannes and the French Riviera was great. However the memories that I will treasure the most are the people and the culture that I got to live for those two weeks.
Seeing and living in Europe was great. However, I am East Texas and I'm glad to be back in the Lone Star State. And I can't wait to get me some catfish and chicken fried chicken! This is the only place on Earth that you can get a plate of real fried catfish. And I love that there aren't any traffic jams. Also, I missed all the folks that what to hear me rock out.
Ruth, thanks for being my friend and traveling partner on this European adventure. It was great to have someone help me take
1400 photos
and not use the self timer for all of my shots. You are the best, you are always right and I wish you well on your future travels all over the world. You'll change the world for the better one smile at a time.
Here is a link to all of the best photos of me on this trip.
And because the world needs to hear me play "I'm a Nerd" all over the world, here are three more places I can check off the list.
"I'm a Nerd" (Live from The Eiffel Tower)
"I'm a Nerd" (Live from The Roman Colosseum)

"I'm a Nerd" (Live from Amsterdam)
"Sweater Girl" (Live from Amsterdam)
And here is a song I wrote while in Europe.

"Living on the Run" (Live from Monnickendam, Netherlands)