I am Ouroboros.
The end of another great semester. This year flew right on by. It seems like only yesterday I was in
New York singing my nerd song
before getting back to Nac to start the spring semester.
Me grading piles of papers during finals.
At the end of the semester, there is always a lot of work to grade. Once the finals are over, it's time to sit down and start reading papers and crunching numbers to figure out everyone's grade. I have about 225 different grades to figure out in a span of a week. I'm glad to have Excel help me when it's time to crunch the numbers.
Me, Becca and Ms. Emma all saying good bye.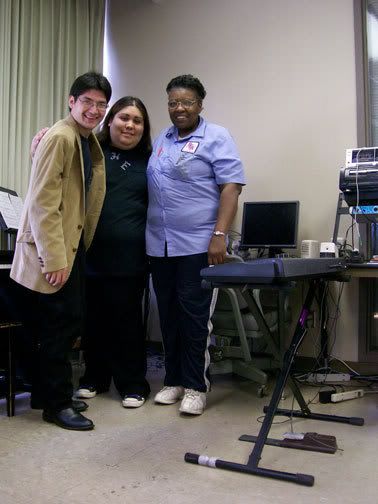 As always at the end of a semester, folks graduate and move on. Becca has been a great midi lab worker. We are all going to miss her hard work in the midi lab. I wish Becca great success in her future career as a film composer.
Arthur Latin, Harry Connick Jr. and me.
I'm the short one.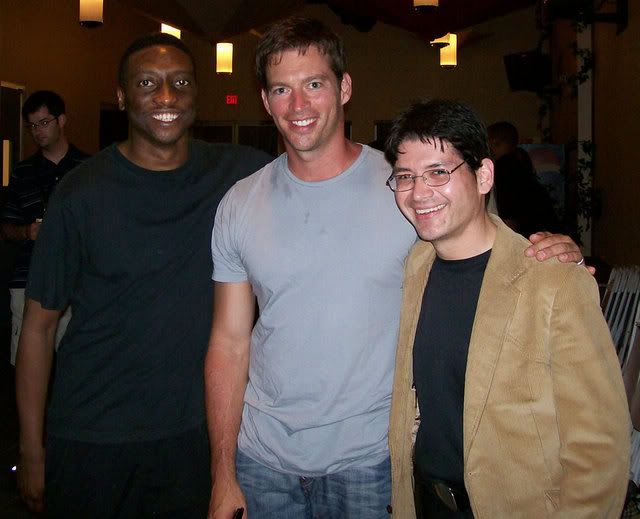 I got the call from my best friend
Arthur
that he was playing in Houston on Friday. So I drove on down and met up with my other best friend Amit and walked to the show from the mall in the Woodlands.
This is the fourth time I got to see the big band play. The Harry Connick Jr. Big Band sounds great! This time, Art opened up with an incredible drum solo. Then he swung the rest of the night. It is amazing to see Art play drums for so many people.
I got to hang out with Art until the moment they kicked us off the bus because they were driving to Dallas. Fun times and great stories. Thanks Art for the hook up on the VIP passes.
If you haven't heard of any of Art's own music, check out
his website
. His songs are great!
Me and Amit.
I'm the one with the cool shirt.
I haven't seen Amit since the last time I was in New York. Well he's back in the south where he can use the air conditioning instead of the heater. He won't need the ear muffs like we needed them in NYC. Welcome back to Texas Amit.
Me rocking out with my $60 Strat Copy.
Amit email me a link on a deal on a cheap electric guitar. It's fun to see how good a cheap guitar can sound and play. This one would make a great punk rock guitar and blues guitar. Maybe I'll put together a punk rock band this summer so that I can play it more.
I'm about to go teach.
I had a great time teaching this semester. The spring is always a bit more fun to teach. Everyone has had a month off during the Christmas holiday. And they all love to have Spring Break off as well.
One time, I wish I could video tape all of my classes the first and the last day so that we all can see the difference and growth during the semester. What a great feeling it is when you have helped someone learn how to do something they have always wanted to do or learn. Is is why teaching is the best job in the world. You learn so much from those that you teach. I have the best job in the world!
Class Photos:
The 350 Music for Children Class
I'm the short dude.
The 362 Intro to Electronic Music Class
I'm the one with the pocket protector on.
The Rock History Class
I'm the one with a suit and tie.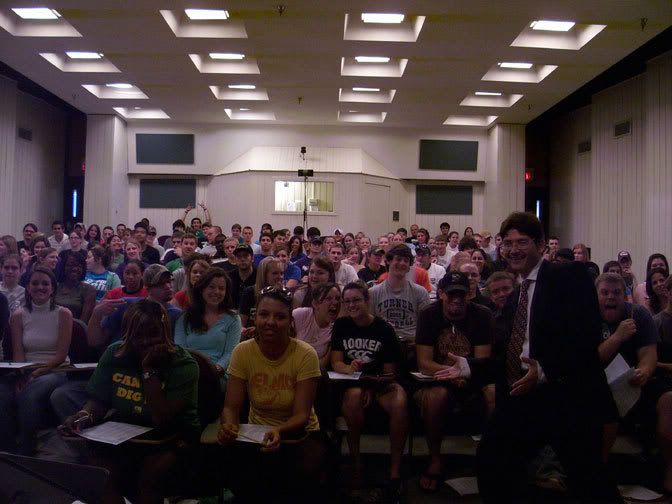 The Guitar Class
I'm the one with a classical guitar.
As always, I have a few music videos for you to watch.
I was standing outside the Fine Arts Building after a children's theatre performance, when I saw a group of elementary school kids line up to get on the bus. One student said, "Get on the bus. I've got to get back to class." I knew this was another hit song. Enjoy.
"Get On The Bus" Music Video
I have been working on my Boogie Woogie piano playing for about eight months now. It's so much fun to play. Hopefully I'll get a chance to play it around the world one day real soon.

Herbert Midgley Playing Boogie Woogie on the Piano
Well I took the writing for the Hollywood class and acting for the camera class this semester. I have forty good pages of a great comedy Sci-Fi movie. This summer I'll finish it! I post it when it's done.
This semester was an interesting one acting. I felt that I had reach a plateau in my acting. This year I was in four different school films. I played a king, a junk man, an angel and a zombie vampire. What a range of roles!
In class one day, the peanut gallery all had a chance to give me some advice on my acting. I found out that I learned my lines in four four time. So I worked hard the last three weeks of class to break myself from this mold.
I teamed up with a film student and we shot a cool Sci-Fi type scene. During the final, the peanut gallery was blown away by our performance. I made sure that we worked hard on the scene and all of that hard worked paid off.
Eternal Sunshine of the Spotless Mind: "Meet me at Montauk", the final product.
Eternal Sunshine of the Spotless Mind: "Meet me at Montauk", the test footage.
Eternal Sunshine of the Spotless Mind: "Meet me at Montauk", from the movie via Youtube
For the last scene I did the monologue that the class gave me advice on three weeks earlier. They all loved it. Of course you have to love Red Dwarf. I wished I could have recorded what I did in class, it was quite moving.
Herbert as Rimmer "Gazpacho soup" from Red Dwarf
The real Rimmer "Gazpacho soup" from Red Dwarf
The scene is in the last few minutes of this clip.
I'll see you all in few days!
What a long blog! I have a feeling that my new blog is going to be really cool. Yeah, rock and roll until then!
And
Mom
, happy Mother's Day!