Snowing in Nac? In April? Wow!
I wish everyone a Happy Easter! Hopefully you all have a chance to see your families and enjoy the holiday.
Well, this is the first Easter I have ever seen snow on the ground the day before! In fact, since I have been back in Texas, I have never seen any snow. It was neat to drive in snow yesterday. This was the first time I have ever driven in snow. Walking in snow is cooler than rain, you don't get as wet, some of the snow bumps off of you instead of rain that doesn't.
I even had a chance to throw five snow balls! That was the first snowball fight I've had in a long time! And man that snow gets your hands really cold!
My snow fight!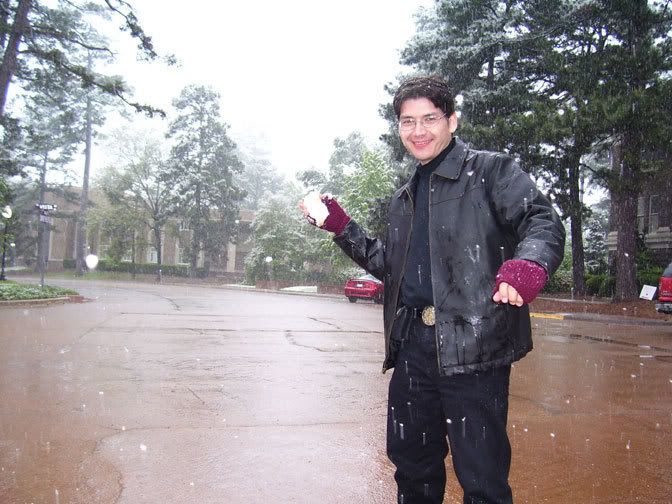 Here is the Music Building at SFA in the snow.
If you use the flash on your camera, you can see the snow as it falls in your photos.
That's not dandruff it's snow!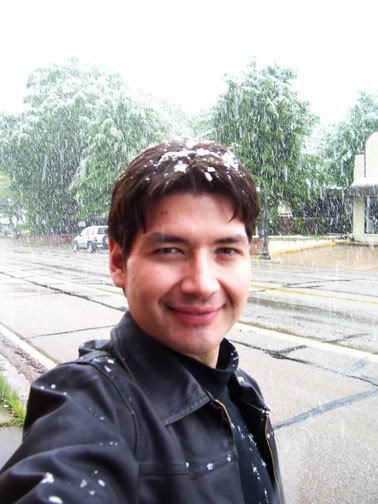 The other day, my best friend and I had a chance to go on a small road trip around East Texas. Ruth and I drove to as many small East Texas towns as possible. Who would have known that there is the last remaining Irish castle style courthouse in
Center, Texas
! Or that there is the
Texas Country Music Hall of Fame
in Carthage, Texas. Wow.
If you have a chance to see some of these small towns, do it. In my humble opinion, these small towns are a lot more fun to explore than a big city. Of course I usually get lost driving in a big city. In a small town, once you find the main road, you can find everything.
The Irish castle style courthouse in Center and two happy travelers.
They kind of look like
Timetorians
, with glasses on.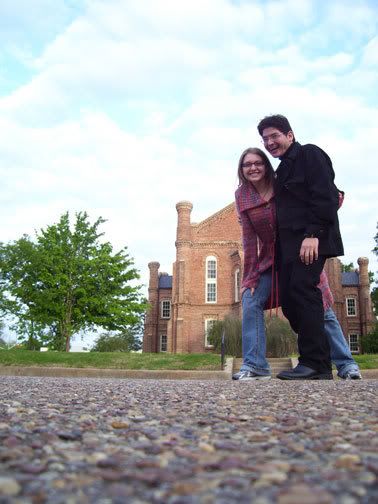 One of the exhibits in Texas Country Music Hall of Fame in Carthage.
This Friday I am going help fight cancer by walking in the
Relay for Life.
I set my goal at $50. So If I have five friends donate a ten dollars, I can reach my goal.
If anyone can to donate $10 I'll send them a signed 8x10 Glossy of me if you want. If you can do the whole $50, I'll send you both a signed Nerd CD and 8x10 Glossy of me. Email me with your address once you have donated so I can get those Photos or CDs in the mail.
If I can reach my goal of $50, feel free to donate more. Remember it is all going to a great cause!
Here is the link to donate:
Donate to help Herbert raise his goal of $50 for RFL of Nacogdoches