I'm a Cowboy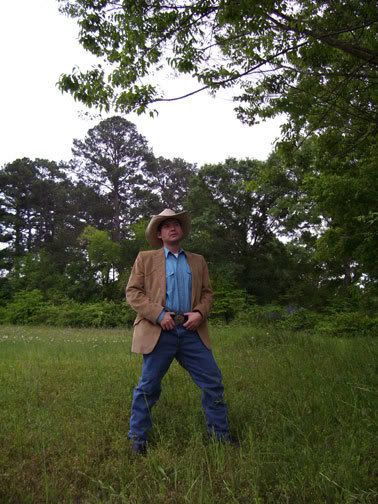 Wow a full week. A lot has happened. So I had better get started writing about this week.
Me walking in the Relay For Life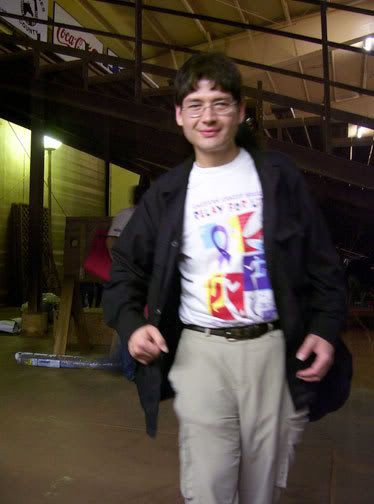 Last Friday I had a chance to help fight cancer and walk in the Relay For Life. I want to thank all of those that help me reach my goal of $50. As a matter of fact, my friends help me get to $60. I'll put those glosses in the mail next week.
Even with the bad weather and the change of venue, this event raised about $80,000. It was a great experience to walk around and see so many folks that wanted to help fight cancer. Next year, I hope to do it again.
Me and Ray Wylie Hubbard at the Americana Fest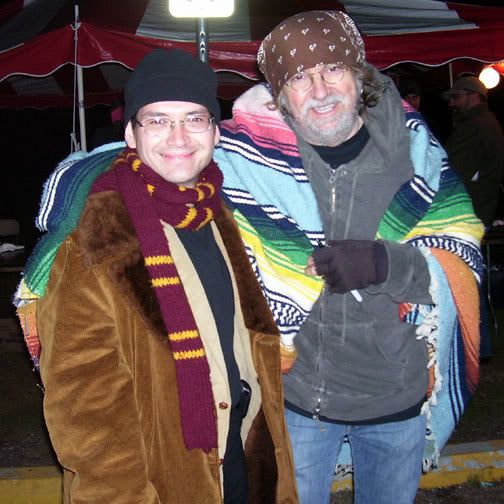 The next day was the Americana Fest. It was a cold day and an even colder night. I rode my bike out there at noon to hear a few friends perform. Then came back to the college for a composition recital. Later I went back to the Americana Fest then to the opening of the Texas National Art Show. Then I went to the Down Stage to watch a play. And finally I closed the night seeing
Ray Wylie Hubbard
at the Americana Fest. What a full day!
Here I am a Judge at the SFA Talent show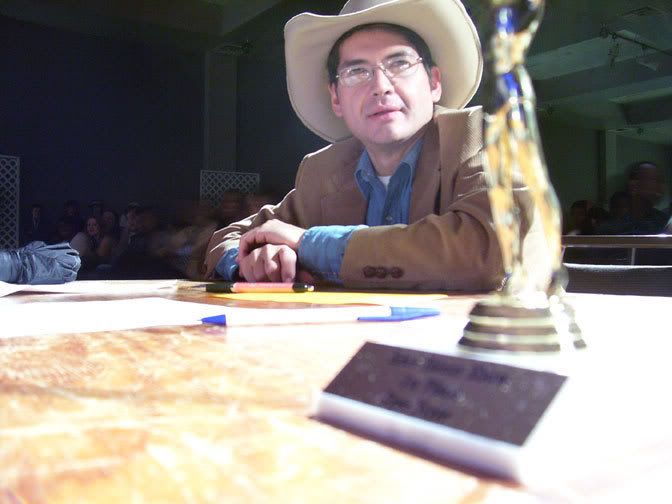 Since I do a lot artsy stuff, I am often asked to judge talent shows. As always, there was a lot of great acts. It is always hard to pick a winner. I'm just glad that I wasn't the only judge. Everyone did a great job and I can't wait until next year.
Me in a Sea of Purple
Sadly a horrible event happen this week at Virginia Tech. As always, the students at SFA try to help those in need. Today I'm guessing about 2-3000 students, staff and faculty all met at the football field to show support for all the folks over at Virginia Tech. It is amazing what a group of people can do when we all set our minds on the positive out come.
Over the next week, smile at someone that needs it. It is amazing how a smile can lift someones' spirit on a bad day. That smile could brighten someone's day. And if you could make the time, talk for a few minutes to someone that you know needs to. That smile or talk could be all that person needs to go on to have another happy day.
I'm a Singing Cowboy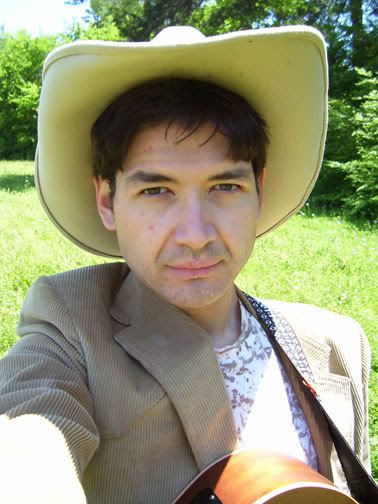 And of course I have a few music videos for you to watch. I hope you like them. Let me know what you think
"Driving into the Dawn" Music Video The Live Version
"Don't Need To Say It" Music Video
I love to podcast.
It seems like forever since the ROW (Return of Whatever) boys got together to do a podcast. However we all love the show and found the time to do one last Wednesday. We are going to plan to do a few a month, and maybe once again down the line, do them every week!
Return of Whatever Show Page
Return of Whatever podcast 77 mp3