Here I am acting as a Junk Man.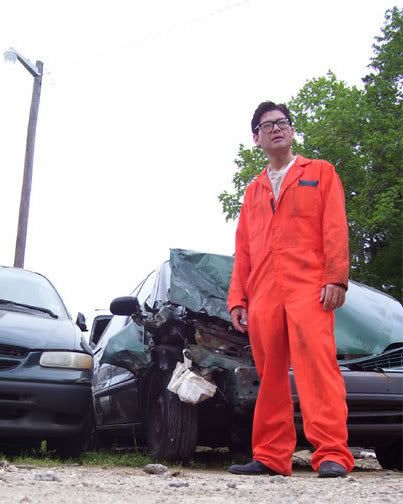 Today I got to act in my second vignette this year. This time, I'm a disabled wise junk man. I had a handful of lines, which I am able to memorize a lot faster than last year. Once you can put the emotion in those words, they flow out.
One thing that I'm working on, is listening and reacting to the other actors. Memorizing lines and saying them isn't acting. Acting is when you can make the audience believe and want to believe what you are saying. It's not easy to do.
When I got to the set, I had make-up and dirt put on me so that I would look like a junk man. They also put some make-up to make me look older. And my super nerd glasses sealed the deal.
In the photos below, I think you can see that I don't look that dirty. In real life, I looked pretty dirty. I even suggested that they put dirt in my hair. So I had dirt down my shirt and all over me, and with my camera I can't see it. Maybe that orange jumpsuit is too bright. It's the same thing with the Stormtrooper suits, if you look close you can see black marks all over, however on film, you can't see them very well.
It was great to have a chance to work with some great actors, once again. Everyone that acted worked hard to give their best performance in a few takes. Also behind the scenes, everyone worked hard to get the best shots and angles. Time is a luxury that no film maker has, so every take is important. And I thought that the art folks did great making us look like junk men.
I can't wait to see this film. Even though I only have a few lines, it's great to see how it looks after all of the magic goes into it. Also, I am more than happy to have five lines or less in a movie. I can memorize five lines in no time. And it's a harder challenge to response to others as they give their lines. Many times you can get more screen time reacting to what other actors are saying.
Hopefully I can act in a few more vignettes this year. And "The Timetorians II" is going to be shooting within a month. Oh boy!
More behind the scenes shots of the Vignette.
The Gang working at the Junk Yard.
I'm the short one in the orange jumpsuit.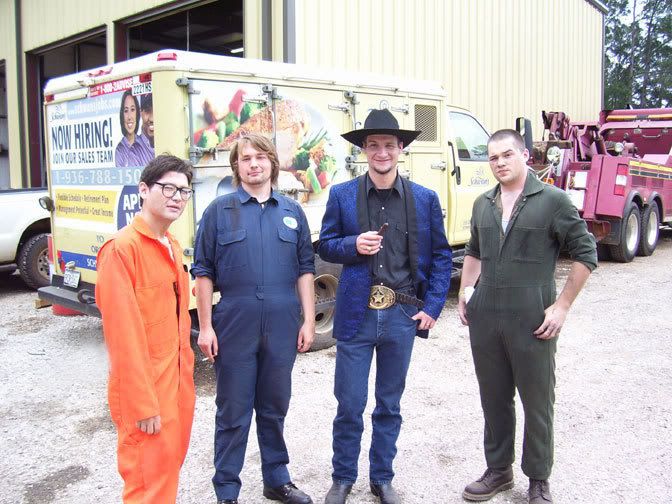 Me and "The Boss".
I think that he is a bit taller than me, smoking cigars didn't stunt his growth.
Me and one of my fellow junk yard co-workers.
"I guess we can wash that ding out."
Me fighting a Van.
Ok, this wasn't in the Vignette, but it would've been cool to see on film.
The Super Nerd Junk Man to save the day once again!
Herb as the Nerd Junk Man.
Can you see the dirt in my hair?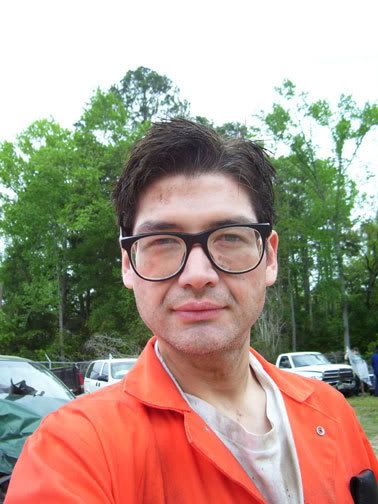 Here is my latest music video.
Butterfly Butterfly (Music Video) The watching eye version
Also I made a karaoke version of the "I'm A Nerd" song. No singing, only me play the chords and the melody on the guitar.
"I'm a Nerd" Karaoke version
"I'm a Nerd" lyrics