Finals, Open Mike, MIDI Guitar, Music Videos, Writing, Teaching and the Power of Music
No matter what, I'll find away to rock out!
Another semester has come and gone. This semester started harder then it got a lot easier once it went by. With teaching the Jazz class for one month and another rock history class, I taught seven classes at the beginning of this Fall. That's the most I've ever taught. After that first month, things calmed down. In many ways it seems like the semester only started last week. The semesters are going by faster and faster. Perhaps my perception of time has been altered since I have started teaching.
One of my friends taught job skills in the public school this semester and I was asked to talk about music to that class this week. Seeing a class that normally sits there with blank looks on their faces, talk and interact with one another proved to me how powerful music is once again. Music is truly the universal language. That was a common ground that they all could find. Teaching, albeit for only a few hours, in the public school again reinforced how useful music is as a teaching tool. They enjoyed singing carols as I played guitar. And they moved and clapped to the beat as well. Rock and Roll!
Sometimes I forget that not everyone can play guitar and piano. That not everyone can write songs and play them in front of an audience. To me it's like breathing, I can't stop breathing. I just I can't stop writing and playing songs. Maybe it has become another way for me to communicate. In many ways it's a better way to share my ideas.
Over the last few days I have written some new songs and made some music videos to put on the web. I really like the music video to
"The Electronic Nerd"
. Most of my
YouTube music videos
get at least thirty or so views within the day after being released.
"The Electronic Nerd"
music video had hundreds the first day. It has over a thousand views today, which is great for one week.
For
"The Electronic Nerd"
song, I used a MIDI guitar. I picked up a
Yamaha EZ-AG Midi Electronic guitar
last week. Down the line, I plan to do a review on the current MIDI guitars. For right now I'll say that MIDI guitars are a lot better than the ones twenty years ago. I was able to come up with some cool sounds and a cool concept for the music video. It's not the typical stand there music video I usually make.
Casa Tomas' open mike night is going strong. It's the new Rita's in a lot of ways. The place is a bit crowded at the beginning of the night, however it's great to have the old Rita's gang rocking out! It's great to have place again to sing my new material.
I wrote this really catchy song called
"She Digs Her Cellphone"
a few weeks back. Since the song was so cool, I didn't want to shoot the standard stand with my guitar and sing music video. However, I haven't had anyone available to act in one of my videos, so I made 'live version' music video at Casa.
And believe it or not, I had time to write another
short one act play
. I have four other plays to finish hopefully over the holiday. And I have my great screenplay to finish as well.
I had a great time teaching this year. It was busy, since it is always so much fun to teach, it doesn't seem like work. Here are some photos of my classes this semester.
Class Guitar
Music For Children
Rock History MWF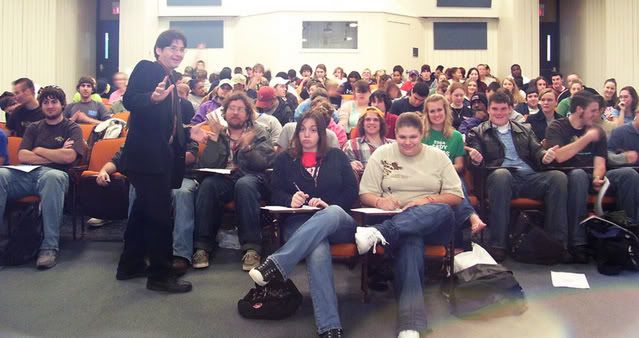 Rock History TTH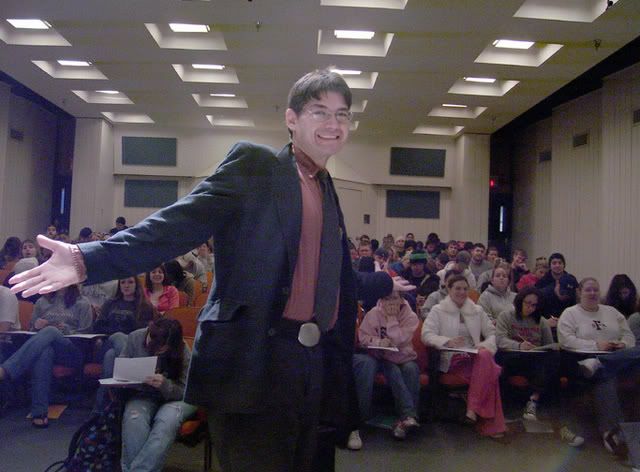 And BTW, I also learn this week that I can take out anyone with a lightsaber because I know how to watch my six! If you talk the talk, be able to walk the walk. If not, I will show you who truly has the force in them.
Rock and Roll!!!!

"The Electronic Nerd"
music video
"She Digs Her Cellphone"
music video
My New Play- One Act-
THE ACTRESS AND THE SPACE ASTRONAUT
pdf