It's Dead Week!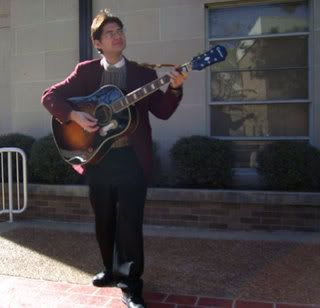 Another full and fun packed Dead Week. Everybody is so busy and it feels like the end of the semester is near. It seems like only yesterday when the semester first started and now it's over. Time is on my side or is it?
This week I went to three concerts, one play, acted in a student film, shot and edited four music videos, fixed various computers, played guitar at the Open Mike at Casa, had an actile about
the Holiday Christmas Special
in the paper, got my test ready for next week and rocked out at "The Happening"! Wow!
For the last few semesters, it has been a tradition to have "The Happening" during the Dead Week. Every time we have one, I am amazed at how great every one sounds. This time was no different.
The Music Recital Hall acoustically is incredible. I love playing in this hall. We all sound great in the Music Recital Hall.
It is great to hear everyone's words and guitars without people talking over it. And no smoke in the air either. This is the main reason why I put on these "Happening". So we have a chance to play for an audience that is only there because they love listening to music.
The other reason I put them on is that I never know who is going to show up or what will happen when we get there. I only know that we will have a great time and hear a lot of great music for the next two hours.
I had a chance to rock out on some blues with the lead guitarist from
Social Bliss
. It's great the audience in attendance got to hear us play some Texas Blues live. And in that hall, it sounded great!
It was great to have some friends from the former Rita's Open Mike Night join me on stage to help me with
"I'm a Nerd"
. And this year we had a great audience. They rocked out and loved every minute of it. So did I!
I want to thank all of those that performed. We had a lot of new groups rock us out as well as many friends from the past. I can't wait for the next "Happening" to happen! Next time, perhaps we'll have two a semester.
The Rita's Gang playing "I'm a Nerd".
Here I am Rockin' out at "The Happening".
Here are a few Music Videos from "The Happening":
"Blues In A"
Nick and Herb playing Texas Blues.
"Sweater Girl"
Nick from
Social Bliss
plays a great guitar solo while I'm singing.
"I'm a Nerd"
The former Rita's Open Mike Night Gang.
Here is a Music Video of one of my songs that Jeremy played Harp on a few days before "The Happening".
"That Couple"
Here is a link to three other Folk Songs that I produced for Jeremy.
Jeremy Reagan Music Videos