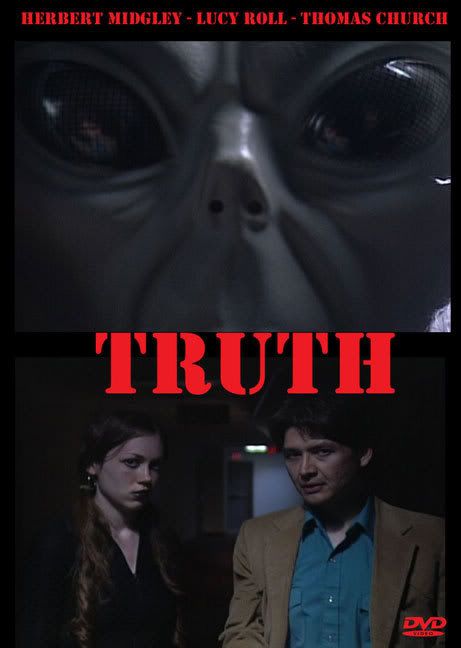 Here is the link to my new Sci-Fi short film.
"
Truth - Short Sci-Fi Film
Links to Special Features
I am so proud of this movie!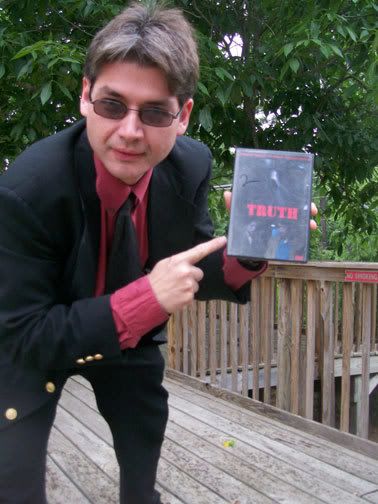 It has been a long and great learning experience making my first short film with a crew. So many hours of preproduction, getting and rehearsing actors, finding locations, making props, recording and composing music and 97 hours of editing all to make a 6 minute and 42 second film.
Happily I am proud of this work.
"Truth"
is truly my best sci-fi movie to date. Also I feel that my acting is my best so far. Acting is such a challenge for a role like this.
For the last month or so, I have been editing this film. Of course scenes that you love get cut out. Scenes are moved in different order, scenes not in the script are filmed are put in as pick up shots and so on and so on.
Like every film, there are always problems. The major problem was that I couldn't find an actress to play the wife. So I rewrote it for a daughter. Even then, every actress I got would bail on the project. Finally I found an actress that agreed to help me out, and she was even better on screen than I could have hope for.
One great thing about this shoot, was the principle shooting day followed schedule. This was due to all the preproduction. Even when a location failed, we were able to find and 'dress' a hallway to finish the shoot.
All of the crew worked hard and we all had a great time on set. No egos, no drama, only movie making. The DP, AD and Sound were great. I wish I had that crew with me for every shoot.
Well after about 300 man hours in to this project, I hope you will enjoy the film. Thanks to all of the folks that watched multiple edits of this film. The one on
YouTube
is the 15th edit. Because of your input the fork, cell phone call, old phone call, shoulder shrug and unneeded dialog was edited out.
I was glad that I was done editing early enough to make 50 DVDs for all the film students. A seven minute movie with an hour of bonus and special features. Wow! Surely over the next few years, they will pull out a copy of
"Truth"
from time to time and play it for their friends and have a smile on their faces knowing how hard we all worked to make this happen.
And I'm still not done. Since this film is so short, if I can drop another minute and half, I can enter it into some film fest as a five minute film. I also want to cut a version without any dialog to see if I can tell this story visually.
Since the actors, crew, DP and I have worked so hard on this project, please share this
movie
with all of your friends. I would like to have over a thousand views by the end of the summer, hopefully more.
So noted in this blog, I want to thank all of the actors, crew and all of those that helped out with this project. Each person is only one spoke in a wheel. Together we make that wheel into a film. Believe me, you can't make a film by yourself and have it look like a film, so from the bottom of my heart, thank you all.
Special thanks to James Rockett, Jim Egner and Lucy Roll for putting so much time and help into making "Truth". Rockett was there as Director of Photography (DP) for every shot in the film. Jim helped me cut the film to the bone. And without Lucy volunteering to help act and wear emo clothes and make up, it would have been me standing there alone in front of the alien. Thank you.
Because we spent so much time on this project, I wanted to document how
"Truth"
was made. So I have Director's Commentaries by
me
, and with
the DP, AD (Assistant Director) and me
. Also I have a
"Making Truth"
documentary which we tell how the movie magic happen.
I have put
the original play
the
"Truth" screenplay
was based on as well as the
screenplay cut
, which is ten minutes and a half long. The
soundtrack
is also available for you to download as well as a
song
I wrote about the movie. If you would like a
DVD cover
to print out, that's here too.
If you want a DVD, let me know and I'll see what I can do.
Please share
"Truth"
with everyone you know. It's a good story about lost and redemption. To me it has heart and I love this story. Also it looks like a movie. Enjoy!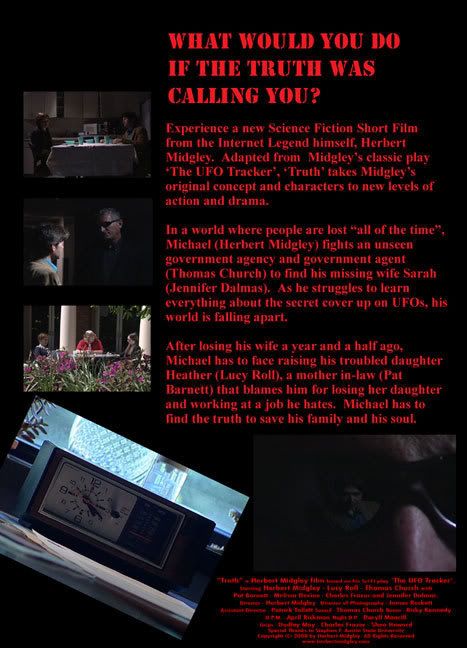 From the "Truth" DVD Cover:
Experience a new Science Fiction Short Film from the Internet Legend himself, Herbert Midgley. Adapted from Midgley's classic play 'The UFO Tracker', 'Truth' takes Midgley's original concept and characters to a new levels of action and drama.
In a world where people are lost "all of the time", Michael (Herbert Midgley) fights an unseen government agency and government agent (Thomas Church) to find his missing wife Sarah (Jennifer Dalmas). As he struggles to learn everything about the secret cover up on UFOs, his world is falling apart.
After losing his wife a year and a half ago, Michael has to face raising his troubled daughter Heather (Lucy Roll), a mother in-law (Pat Barnett) that blames him for losing her daughter and working at a job he hates. Michael has to find the truth to save his family and his soul.
Links to "Truth" and Special Features.
"Truth" - Short Sci-Fi Film
"Truth" - Short Sci-Fi Film - Director's Commentary

"Truth" Director's Commentary with DP and AD
Making "Truth"
"Truth" (Rough Cut)- Short Sci-Fi Film
"Truth" (Rough Cut with Director's Commentary )- Sci-Fi Film
"Truth" Song Based on the Movie
Soundtrack
Three Piano Pieces Featured in "Truth"
I. Time Fall Away....In Wind or Space
II. Waiting For Some Time....and One
III. Always Moving Through Time....Faster Than Us

"Truth" Soundtrack
"Truth" Song
Script
"Truth" Screenplay
"The UFO Tracker" Play that "Truth" was based on.

"Truth" DVD Cover
Tell all of your friends to Stop and watch
"Truth"
.
Here is the link to the movie's webpage.
http://www.truthiscomingout.com/