Rockin' out on Valentine's Day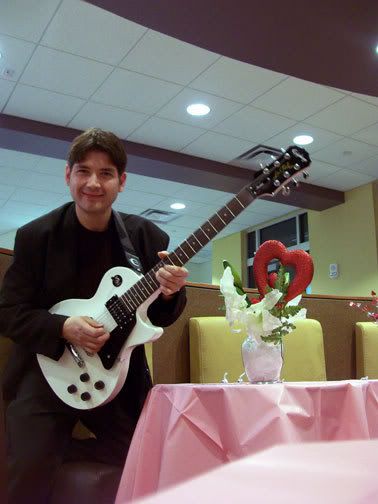 Wish all of you a very happy Valentine's Day. Surely a lot of candy, flowers and cards will be exchanged today.
Since I don't eat sugar, chocolate or dairy, I don't give them out as Valentines. I give the
great gift of music
. Today I wrote a
song
about this holiday for all to enjoy. Hope you like it.
I did some
research
on Valentine's day, and it's another made up holiday! For some reason I thought that St. Valentine was martyred or something. It turns out that there may have been three different Valentines and one they have no information on!
Perhaps one day, a Herbert Midgley Holiday may be celebrated. People would send Herbert Midgley cards, gifts like guitars will be given, etc. And Peanut butter Jelly sandwiches will be served! And maybe catfish too. I love my catfish! And I love cranberry juice too.
So if you don't feel like celebrated Valentine's Day, why not celebrate Herbert Midgley Day and eat some Peanut butter Jelly sandwiches or catfish in my honor with a glass of cranberry juice. And forget the cards, just send someone an email wishing them Happy Herbert Midgley Day with a :) smiley face! And if anyone has a
Gibson Les Paul
they want to send me, please do, I love that guitar!
My Valentine to You.
The Gift of Music.
"Happy Valentine's Day" The Song

Open Mike Night at SFA 2-12-08
This open mike night had a Valentine's Day theme. I think you'll like the heavy metal guitar on the second song.