It has been a Great New Year So Far!
Happy New Year!
2007 has come and passed. This year went by really fast. And boy did I do a lot in 2007! Let's see how much I remember!
This year I am lucky to have a great job teaching. It's my dream job in so many ways. Teaching is great and every year I become a better person because of it.
This year I started to work on a film degree. It's great to take classes that focus on film making. Learning new tips to make my
YouTube videos
better is awesome.
I am so fortunate to have a lot of great friends and family. It's cool to hang out with them and have a lot of rockin' fun times. Even my friends that are far far away, I have had a chance to see many of them this year.
Traveling all over the world.
For the second year in a row, I got to travel to Europe. This time I got to spend a lot of time in Paris. The French Riviera was great, I never thought I would go and walk the beaches in Nice and try an crash the Cannes movie festival with
"The Time Timetorians"
.
My favorite photo of the European Trip.
And the pizza was great in Rome! Buying a cheeseless pizza already made, was so cool! The Netherlands was beautiful and the small fishing village I stayed in was great. I saw so much art, old buildings, rode a lot of trains and met a lot of great people all over the world. And I took so many
photos
of these adventures!
This year I got to work out a lot. I did fifty push ups every day in 2007. Also I ran over 400 miles this year. It is great to be in the best shape of my life. Swing dancing is also a lot of fun, I never thought that I could dance as well as I can now.
Five O'Clock Lightning.
I wrote over 100 songs in 2007. Also I made many of those into
music videos
. It's great to have a chance to play at various open mike nights in East Texas. What a great place to have an opportunity to rock out every week. And I also got better playing
boogie woogie on piano
this year!
In 2007, I got to make many
short movies
. Also I got to star in a few student films as an actor. Only in East Texas can I play a nerd, a king, a heavy and the action hero.
The Place that Rita's once stood.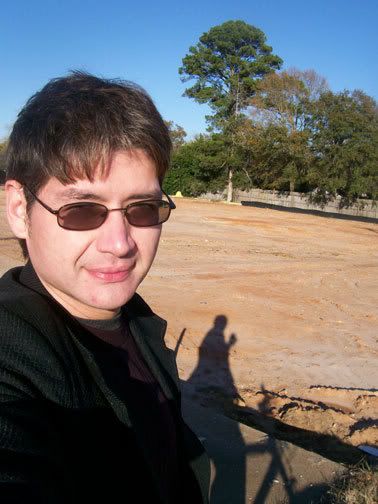 On a sad note, Rita's is gone. It was literally wipe off the face of the Earth this year. I'm glad that I named my last CD
Rita's
. We all miss that place, however we have all found other places to rock out. Open mike night will never be the same in East Texas.
The Spot that Once Was Rita's
Here is a cool Classical Guitar Study I recorded on the last day of 2007. I love rock and roll, however I can play classical guitar too. I compose one of these studies every month.
Study in A Major - Classical Guitar Study
Rockin' Out on the Last day of 2007
And finally here is the last song I wrote and recorded of 2007. It is great to be able to write a song, record it, make a video for it then post it on the web for the world to see. As always, I hope you all like it.
"Meet Me When We're Stardust" (Music Video)
On Christmas Day, Social Bliss honored me by inviting me to jam with during one of their rehearsals. Here is a few clips of Social Bliss and me rockin' out on Christmas Day.
Blues in A Jam Session with Social Bliss
"I'm a Nerd" Jam Session with Social Bliss
Looking forward towards 2008.
It has already been a great 2008! Can't wait to see what next year will bring!