Having too much fun this week.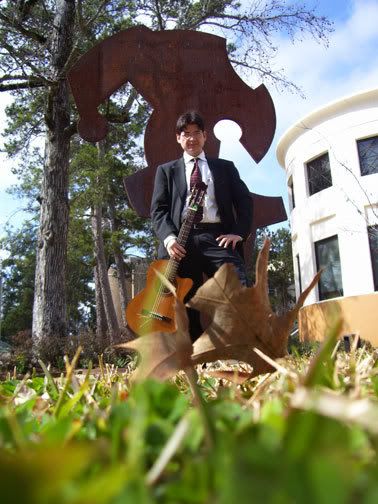 A full week. Last week I was in San Antonio at TMEA. I attended fifteen sessions and I have a lot of new ideas that I can use in the classroom.
This year I was chosen to present a
music technology session
at TMEA. It is great to have a chance to help my fellow music educators learn how to use music technology in their classrooms. This is the fifth year that I had a chance to present at TMEA.
At the SFA reunion, I got to see a lot of former classmates. It is interesting to see what they are doing. I am surprised that so many of them remember me. Many of them tell me that listen to my songs and play them for their students. Wow!
One cool thing that happened to me at a session, I had a person recognize me from my
website
. It's a small world after all.
I took some peanut butter and bread to eat in the hotel if I got hungry. While in San Antonio I ate at three different Mexican restaurants. On the second night I got a little hungry and was going to open the peanut butter jar, but I decided to go to sleep.
When I got up in the morning, I checked one news website and there is my brand of peanut butter listed in a recall due to that batch of peanut butter may contain salmonella contamination.
Great! I have been eating this brand of peanut butter for months and it may contain salmonella contamination. I knew that I ate some of that tainted peanut butter a few days before my trip. The news article said that it my take up to three days for symptoms of salmonella poisoning to appear.
This was the day that I was going to present, so I was under the 72 hour window. So I started to feel a bit ill. As the day went on going to various music sessions, that feeling went away and never came back. But it would've been crazy to get violently ill while presenting my session on music technology! I'm glad that my immune system must be working well.
Me in the luxurious Motel 6.
It was cold in San Antonio. And I lost the left glove of the pair as soon as I got there. So I had a back up pair in my car, and I lost the left glove once again. Fortunately, the weather warmed up.
I wanted to shoot another
music video
in front of the Alamo, and on Saturday it was a bright warm day. I had one family listen to me sing as I was making the music video. Afterwards, I went inside of the Alamo and got to see Davy Crockett's rife.
Me rockin' out at the Alamo.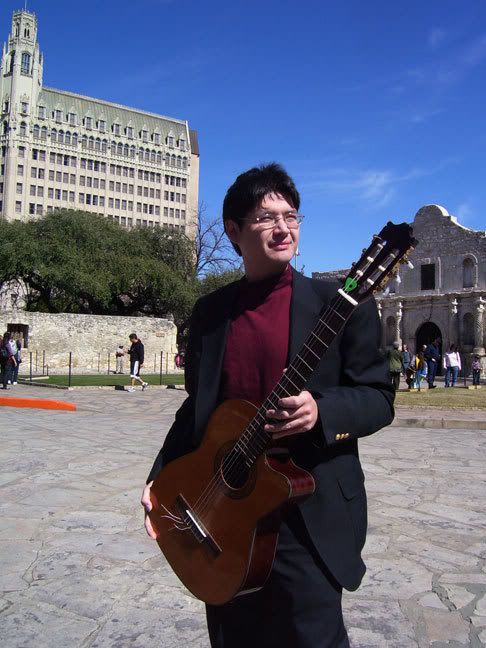 Driving back, I stop by to see an old friend in San Marcos. We talked about music production and about how we were back in college. Man a lot has changed since then. Arthur plays drums in the Harry Connick Jr. big band and I teach at a university. Looking back all those years ago, we both knew we would do something cool to make a living. It must've been all those hours practicing and living in the midi lab that made us both get cool gigs.
Arthur
is known through out the jazz world as the hardest swinging drummer working today. And I, well you all know or else you wouldn't be here reading this blog.
On the way back to Nac, for years I have always seen this old timey Wal-Mart as I drove by. So this time I stop for a break there. It brought back so many memories. It was just like the one that use to be in Lufkin in the 1980's. My grandparents lived close enough to walk to the Wal-Mart in Lufkin.
My grandpa use to take me there and look at all the toys that I said I would like. And on my birthday and Christmas they would magically appear. I wished there were more small Wal-Marts, walking around, there really is everything that you would need, only the isles are a bit smaller than the Super Wal-Marts.
Me in front of an old timey Wal-Mart.
When I came back, I was asked to play guitar in the Lamp-lite Theatre Musical 'Man of La Mancha'. This one I have to count in. There are a lot of meter changes like from 6/8 to 3/4 and back again. Playing guitar in 'Grease' was easy, everything pretty much in 4/4. So in less than a year, I have played the guitar part in the main musicals that feature guitar.
Here I am in the 'Jail' playing guitar in the 'Man of La Mancha'.
This week I started the Singer/Songwriters group. Here is the
newspaper article
about it. On Thursday night we had about fifteen folks show up. A lot of favorite local singer/song writers came out to perform. Chris, Jeremy, Colby and Passenger Airbag and I rocked out the night. One of my friend's dad even played a few tunes.
It was a great night to actually hear the music and words. I hope that we can get more folks out next week that want to perform and listen to some great local music.
Well I guess that's it other than I wrote another Sci-Fi film script that I'll shoot before Spring Break and I ran nine miles this week. Rock and Roll.
The Pine Log Article on the Singer/Song Writer Group.
The TMEA Real Life Uses of Music Technology for Music Educators session I gave on 2-16-07.
Here is the song that I wrote in San Antonio.
Seeing You Now (Music Video in San Antonio at TMEA)
At TMEA after my technology session.
Seeing You Now (Music Video at the Alamo in San Antonio)
The next day in front of the Alamo.
Some cool Black and White photos of me. I think that I look better in Black and White!