Here I'm singing "I'm a Nerd" in NYC's Central Park
I have never had a chance to walk the streets of 'The Big Apple' before. As a child, I connected a flight in New York City, however I was too young to even remember that.
Of course everyone in the Western world knows of New York City. This city has been in countless movies, television shows and books. So I went with what I thought New York City was from all these sources. I was wrong.
London and Paris are both big cities, each of them have a vibe to them. Well, New York City has a vibe even bigger then them both.
When Amit said that he was going to New York City for a quick vacation, I thought why not meet up with him there and explore one of the biggest cities of the world. You of course know Amit as one of the co-host of
The Return of Whatever
.
We have all heard of rude New Yorkers, well I didn't run into any of them. Everyone was cool and nice. They help us with directions and even offered to help when we didn't know where we were going. I asked many folks on the street for directions, and they all helped.
I finally got to see all the major places in Manhattan that I have seen in the media seen I was young. Time Square, Soho, China Town, Central Park, The Brooklyn Bridge, The Empire State Building, The Statue of Liberty and Ground Zero. Also learning how to use the subway was a lot of fun. Riding on the subway, I really got to feel like a New Yorker for a few minutes.
The food was good. It cost too much for cheapo Herbert, however the gyro and the pretzels tasted good. The price of most things are higher than in East Texas. However it was that way in London and Paris too. As in London and Paris, I really didn't see any food that I had to eat. No buffets, mainly restaurants and fast food at high prices. Well, high prices to me. Also, since I don't eat any 'fun' foods, eating out isn't that big of a deal to me. Give me some catfish, chicken and some veggies, and I'm set for life. And hold the sugar, cheese and other dairy products too.
We had chance to go to the 86th floor of The Empire State Building. This was high in the air. So high, that it didn't seem real. It's higher than the Eiffel Tower, it was amazing to see all the tall buildings of New York City. I could even see The Statue of Liberty in the distance. It was cool to call a few people from that tall building. Funny, the cell phone reception wasn't that good from that high up.
Here is one of the weirdist and coolest events that happen on our journey. Amit and I sat down in the subway, planning to go back uptown. I was talking about Nac, which is short for Nacogdoches for those outside of East Texas. The girl sitting next to us looked at us and said "Nac?". I said yeah, Nacogdoches. She told us she was from Nacogdoches and had left Nac for New York City five years ago. She asked if we were going downtown to the Bronx, we say no and she told us that we were going the wrong direction.
What are the odds of meeting a person that was born and lived in Nacogdoches and happened to over hear us talk about Nac at the wrong subway station? It has to be pretty large number. It's truly a small world in many ways.
The site of the former World Trade Center was a moving experience. Seeing some artwork by children that had lost one of their parents on that sad day, evoked many emotions and feelings. Seeing this big hole in the ground that was once the place of two of the tallest buildings in the world, didn't seem or feel right.
And the last major site I went to was Battery Park, and across the harbor, I could see The Statue of Liberty. This reminded me of the Eiffel Tower, there were places for people to sit and look at the statue. As with the Eiffel Tower, I never thought that I would see The Statue of Liberty with my own two eyes.
So, it was a fast two and half days in "The Big Apple". I had fun and I can see me going back one day. Next time, it will be in the summer or spring. My ears frozed until I got me some ear muffs.
It was great that I didn't see any crime and I never at anytime felt that I was in danger. This gives me hope for humanity.
Here are the music videos I shot in NYC:
These two in NYC's Central Park.
"I'm a Nerd"
"Sweater Girl"
And this song in NYC's Subway. It was hard to record in the subway, trains go by all the time. Can you find the splice I had to make in the video when a train went by?
"I Never Meant to Break Your Heart"
A few more photos
On top of The Empire State Building.
At Ground Zero.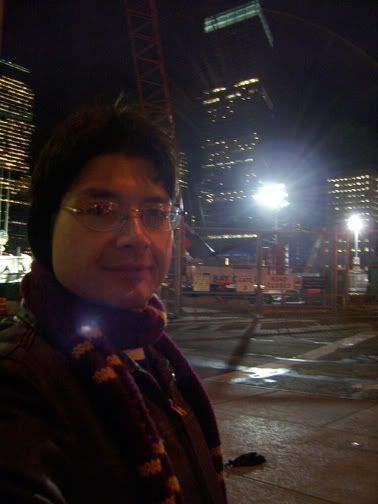 Radio Music Hall in Time Square.

The Brooklyn Bridge.