I'm a Rock and Roller!
I was in the Rock class when I found out. This is where I found out that I was on G4 once again. That's right, I was on the "Attack of the Show" for a few seconds.
A few months back I got a bulletin on the Myspace for a video question. If they put you on the air, they would send you a t-shirt. So I made a quick video of me asking a question and sent it to them.
Weeks went by without me getting my free t-shirt. So when I was told that I was on G4 again, I knew that I would be getting a free t-shirt. Well I got it a few days later. Too bad it is size large, I'm more of a medium since I've been running.
Here I am with my free T-shirt.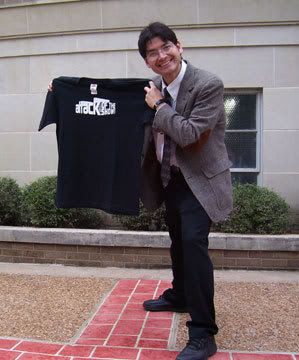 It has been a blast so far playing guitar in Grease. The boys in the band are full of jokers, so we are laughing and joking all the time during the rehearsals.
I am not too big on musicals. In fact the only musical that I really like was the Blues Brothers movie. I guess that's a musical. For whatever reason it never seemed to make much sense to me to break out into a song and have the rest of the town sing in harmony with you. That has never happen to me, well at least not the whole town singing along with me.
Grease is going to rock! The band is rocking hard. And the folks on stage are doing the hard work. All I'm doing is playing changes and playing some blues licks that I've been doing since I picked up a guitar.
If you are in the Nacogdoches area, do yourself a favor and check out Grease. It is November 14-18. Get your tickets fast.
I saw the movie a long time ago, and I liked it a little bit. A few catchy songs. It was one movie that I never cared about seeing again.
In my opinion, the musical is a lot better. No disco music for something set in the 1950's. And the acting, dancing and singing is a lot better too. All the kiddos are working so hard to put on a great show for you. And so is the guitar player if I do say so myself.
If you are a musician, get ready to hear I vi IV V7 all night long. The bread and butter progression is used a lot. Well the songs are so catchy and fun, you are going to have a great time. That's why rock and roll is so much fun.
I have a few solos. One is all by myself, so if I drop it, it's all on me! It's a good thing that I'm a rock and roller. And you should hear me solo a lot at the end of the show too! Bb blues, my Fender Stratocaster and me equals rock and roll! You'll see me moving and grooving thirty feet in the air.
Playing guitar in Grease got me thinking that I could write a musical. I can write catchy songs and I can write catchy plays. Put them together and you'll have a catchy musical. Stay tuned….
Well until then, here is another emo/nerd/folk/rock song for you to listen too. Check out my 1950's garb and my Buddy Holly glasses. Rock and Roll!!!
"I'll Follow You"
Music Video